【Matsui Whisky Won Gold Awards at the Wolrd Most Influencial Whisky Competitions in The USA】
2022/05/13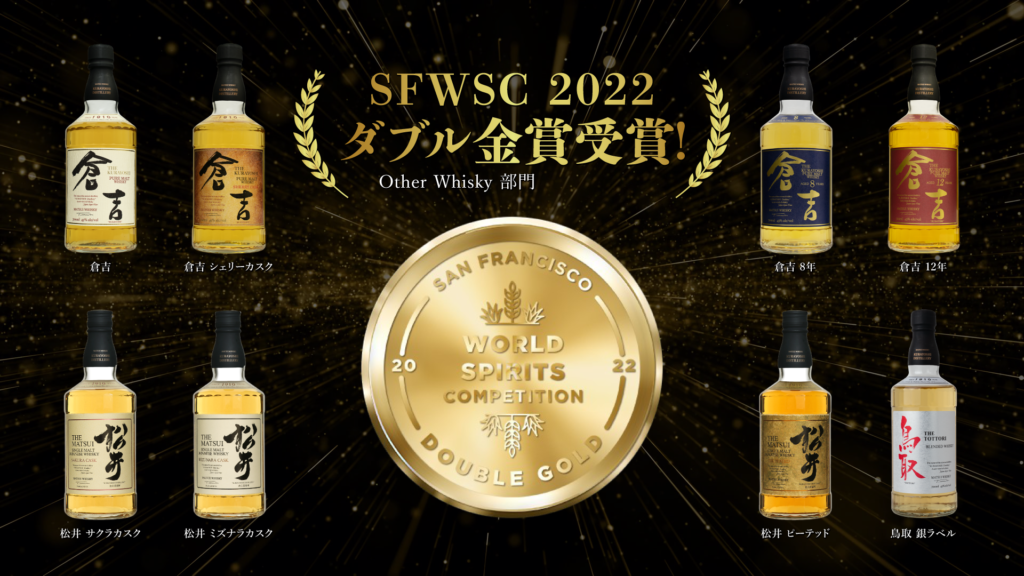 Matsui Shuzo An Unlimited Partnership (Kurayoshi Distillery, Kurayoshi City, Tottori Prefecture, Japan) is pleased to announce that 8 products of the Matsui Whisky won Double Gold Award at San Francisco World Spirits Competition.
■SFWSC
Launched in 2000, Sanfrancisco World Spirits (SFWSC) is one of the most influential liquor competitions in the world.
The judging process involves a blind tasting of each category by a panel of judges including bartenders, restaurant chefs, distribution buyers, and beverage journalists to determine the winners of each award.
The "Double Gold Award" is given to the product that receives a perfect score from all judges.
The "Gold Award" is given to the product that receives a near perfect score from the jury.
■ Kurayoshi Distillery
Kurayoshi Distillery is based in Kurayoshi City, Tottori prefecture, Japan, producing Whisky, Gin, and Umeshu (Japanese Ume plum liqueur). Matsui Whisky brand, such as The Matsui Single Malt Whisky, and "Kurayoshi (City)", "Tottori (Prefecture)" and "San-in (Region)" named after the hometown, is now widely available in over 60 countries.
Not satisfied with the status quo, we will continue to create new value for the world, anticipating distribution and sales in 10, 20 and 30 years time.