【2022 Special Release!Kurayoshi Sherry Cask 5 Year Old – Tora Obi -】
2021/12/24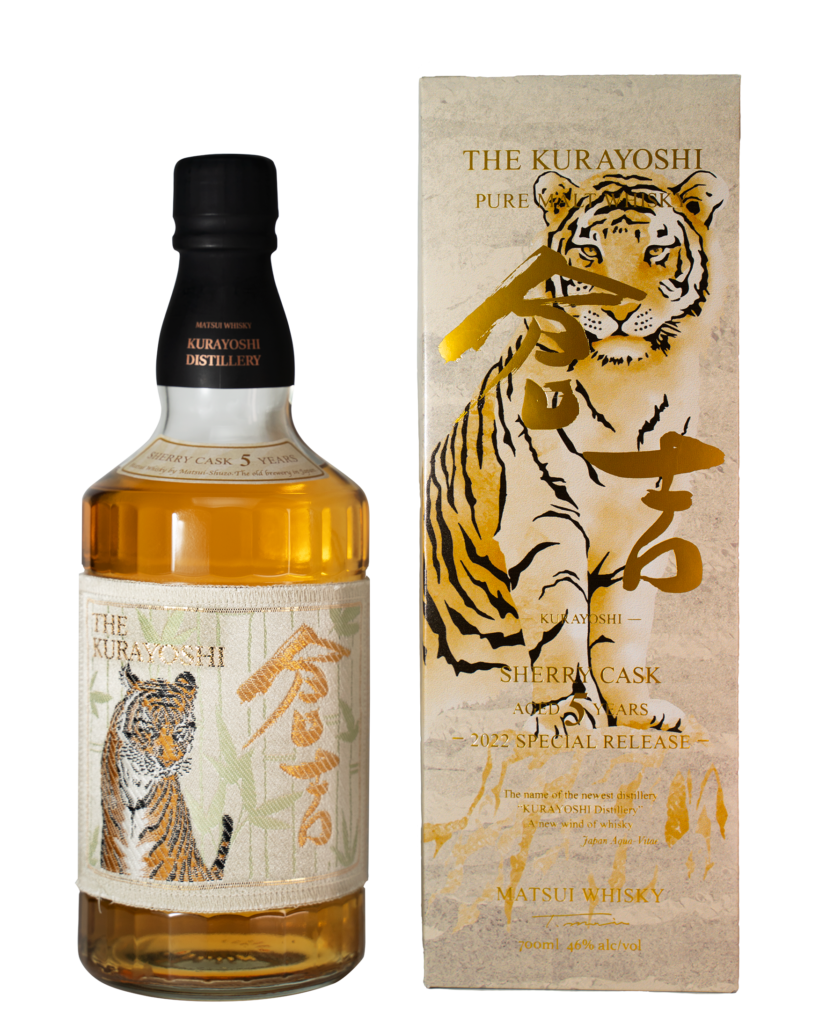 【2022 Special Release!Kurayoshi Sherry Cask 5 Year Old – Tora Obi -】
Kurayoshi Distillery (located in Kurayoshi City, Tottori Prefecture) is pleased to announce the release of "Kurayoshi Sherry Cask 5 Year Old – Tora Obi – 2022 Special Release" with a Chinese zodiac label to celebrate the year 2022.
A limited edition whisky to celebrate the Year of the Tiger 2022
Kurayoshi Sherry Cask 5 Year Old is a pure malt whisky specially produced at the Kurayoshi Distillery in Kurayoshi City, Tottori Prefecture. Only the best and rarest malts are matured in white oak casks, vatted with exquisite blending techniques, and then aged for over a year in authentic Spanish sherry casks. The whisky's natural flavours and aromas are of the utmost importance, and by reducing the water content, the ideal balance is achieved with an alcohol content of 46%. The aroma of gorgeous fruits and chocolate, the sweetness of honey, the harmony of sultanas and citrus acidity, and the deep woody flavours of the palate. This is a whisky to be blissful to the last drop. Made in the great outdoors of Tottori prefecture and finished with underground water from the Mt.Daisen.
The tiger, the Chinese zodiac sign for 2022, is represented in a kimono design.
The tiger is a symbol of strength of spirit and vitality, showing bravery in the face of all odds, as well as good luck for good health, based on the legend that "evil spirits fear the tiger". The tiger with its high spirits and vitality, represented on the label by an obi made by a traditional Japanese kimono weaving technique, in a gorgeous design to celebrate the New Year.
The bottle number is printed on the back of the label, making each bottle a special "one and only" in the world. It makes an ideal gift for a loved one.
We hope you will welcome the year 2022 with the Kurayoshi Sherry Cask 5 Year Old -Tora Obi-.