Single Malt Whisky The Matsui Mizunara Cask awarded "Chairman's Trophy" with 97 points at the USC 2020

2020/07/28
Japanese Single Malt Whisky Matsui Mizunara Cask was awarded the "Chairman's Trophy" and was also recognized in the TOP 100, scoring 97 points out of a possible 100 points at the Ultimate Spirits Challenge 2020.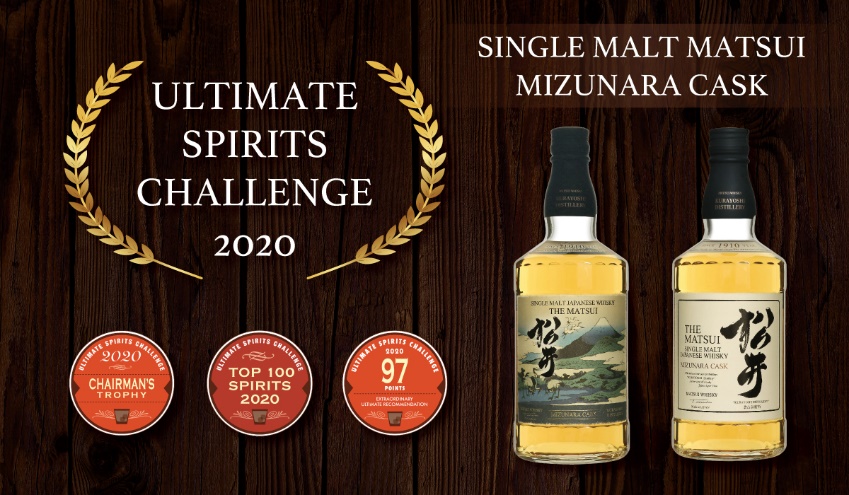 Ultimate Spirits Challenge, which took place throughout June and July in NY this year, is now one of the most respected spirits competitions. Each product is tasted blind and rated by 100-point scale by judges who are buyers, consultants, journalists, educators, and international spirits experts. The "Chairman's Trophy" is the highest award and given to a product that scores the highest points in a category.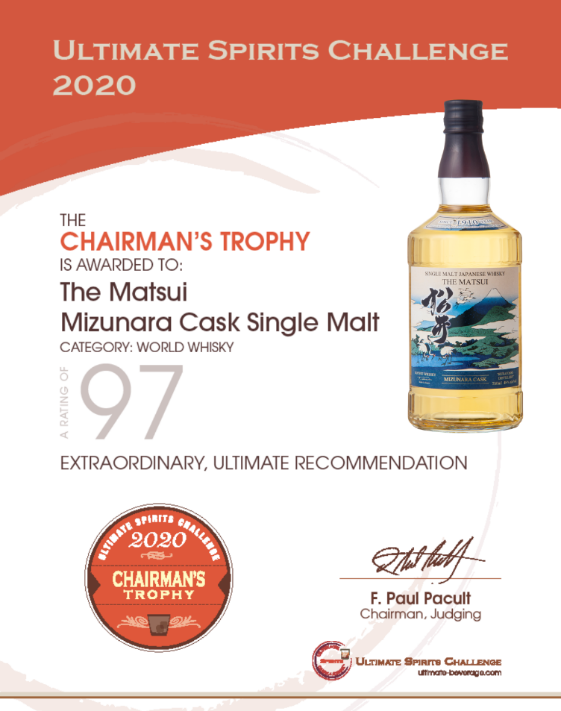 -Tasting Note for Matsui Mizunara Cask from USC-
"Distinctive aromas of toasted cereal grains with dried fruit and flowers and fresh and enticing. The robust flavors explode in the mouth with roasted grain supported by softly sweet malt and expertly balanced spice, all leading to a silken finish. An absolute pleasure to drink."
We are truly honored to receive these awards and will continue to deliver quality liquors to people all across the world.
▲Awards from USC 2020▼
Single Malt Whisky Matsui Mizunara Cask – Chairman's Trophy / 97 pts / Top 100
Single Malt Whisky Matsui Sakura Cask – 94 pts / Finalist
Blended Whisky Tottori – 93 pts / Finalist
Blended Whisky Tottori ex-bourbon barrel – 92 pts / Finalist
Matsui Brandy Umeshu – Chairman's Trophy / 95 pts / Top 100
Matsui Whisky Umeshu – 92 pts / Finalist
Matsui Shuzo's products are widely available over 45 countries.
Please contact us for a product inquiry through the form below.
https://forms.gle/LWT8txBDxt48EaRk6
【Contact】
Email: info@matsuiwhisky.com
SNS】
Facebook: https://www.facebook.com/matsuiwhisky/
Instagram: https://www.instagram.com/matsuiwhisky/
Twitter: https://twitter.com/matsuiwhisky/
Weibo: https://weibo.com/p/1006067400753801/home?from=page_100606&mod=TAB&is_all=1#place